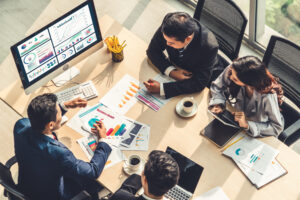 Company: Top 10 Credit Card Issuer – US Co-Brand & Branded
Challenge:
Company has greater than 30 co-brand partner portfolios and several branded portfolios. Over the last six years, their underwriting strategies were using an older version of FICO and a custom score built in 2013. They have a very light staff of risk-management analysts to revise a custom update to their portfolios. They were looking for support to rebuild their custom score to the next generation and revamp several of the larger portfolio underwriting strategies.
PAG Solution:
PAG was engaged in a two-stage approach, which included developing a new custom score for underwriting and then utilizing that score, once approved, to develop custom underwriting strategies for several of their larger co-brand portfolios and two of the branded portfolios. PAG used its internal capabilities and systems to work with the bank to gather the needed data requirements from both internal bank data and external data were applicable. PAG developed a new custom underwriting score with six unique segments, which overall increased the KS from 34 to 48 for the overall scorecard when rolled up. From there, the score was quickly approved by the client, and coding into the system began immediately. PAG then developed the underwriting strategies using the new custom score and the newest version of FICO.
Client Benefits:
PAG was able to not only deliver a new custom underwriting score, but also worked with the Decision Science team to upgrade their internal model documentation process, and provided them a new model governance template for ongoing model management (all OCC & FDIC aligned best practices)
PAG was to improve the approval rate across the portfolios that were managed by PAG an average 22%
Targeted loss rates were decreased by 6% overall, while overall profitability increased by an average of 26% across all portfolios touched.
PAG's solution came in slightly over budget, due to the mid-project request for model governance and procedures, however, came in below the overall expectations of the client